During the Fall 2020 semester, Prevent Blindness Wisconsin was lucky enough to partner with three Health Communication Capstone students at UW-Parkside. The three students completed research on the impact of screen time and vision health and created educational materials sharing their findings. PBW staff enjoyed working with the three students, Samantha Porter, Kaila McLaurin, Mohamed Mohamud, and Professor Theresa Castor.
Below is the project Samantha Porter created. Her objective was to create a brochure for parents about how screens impact vision health and give some practical guidelines on managing screen time.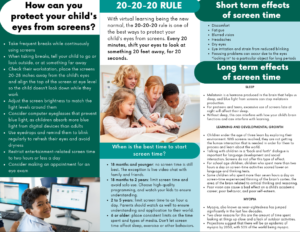 Thank you again to UW-Parkside, we always enjoy working with your staff and students and look forward to further collaborations in the future.