FOR IMMEDIATE RELEASE
For more information:
Prevent Blindness
Whitney Anderson
Phone: 800-301-2020 ext. 105
E-mail: [email protected]
North Coast Health recognizes Prevent Blindness at the Celebration of Caring Gala
Cleveland, OH (Sept. 22, 2017)
– North Coast Health recognized Prevent Blindness at the Celebration of Caring Gala on Sept. 14. The event recognizes civic organizations and individuals for their outstanding and significant contributions for the betterment of North Coast Health.
As a charitable health center, North Coast Health strives to create a community where those in need receive excellent medical care and live healthier lives regardless of ability to pay.
With the support of volunteer doctors, nurses and other caregivers, the North Coast Health staff provides primary health care, preventive care, chronic disease management, medical tests, specialty referrals, prescription assistance, and health education to low-income individuals and families.
"We are grateful to North Coast Health for their partnership in helping us to assist Ohioans to achieve healthy vision," said Sherry Williams, President and CEO of The Ohio Affiliate of Prevent Blindness. "We will continue to support North Coast Health by providing access to donated, comprehensive eye exams and eyeglasses for their uninsured and uninsured patients."
Blindness and visual impairment have an enormous impact on individuals and society. Vision loss can rob people of their independence, mobility and quality of life. With the growth in the aging population and the increased incidence of diabetes, the prevalence of eye disease and vision loss is an increasingly significant public health and personal concern.
For more information about North Coast Health please visit, northcoasthealth.org. And for more information about Prevent Blindness please visit, www.pbohio.org.
About Prevent Blindness
Founded in 1908, Prevent Blindness is the nation's leading volunteer eye health and safety organization dedicated to fighting blindness and saving sight. The Ohio Affiliate of Prevent Blindness is Ohio's leading volunteer nonprofit public health organization dedicated to prevent blindness and preserve sight. We serve all 88 Ohio counties, providing direct services to more than 800,000 Ohioans annually and educating millions of consumers about what they can do to protect and preserve their precious gift of sight. For more information or to make a contribution, call 800-301-2020. Or, visit us on the web at www.pbohio.org or facebook.com/pbohio.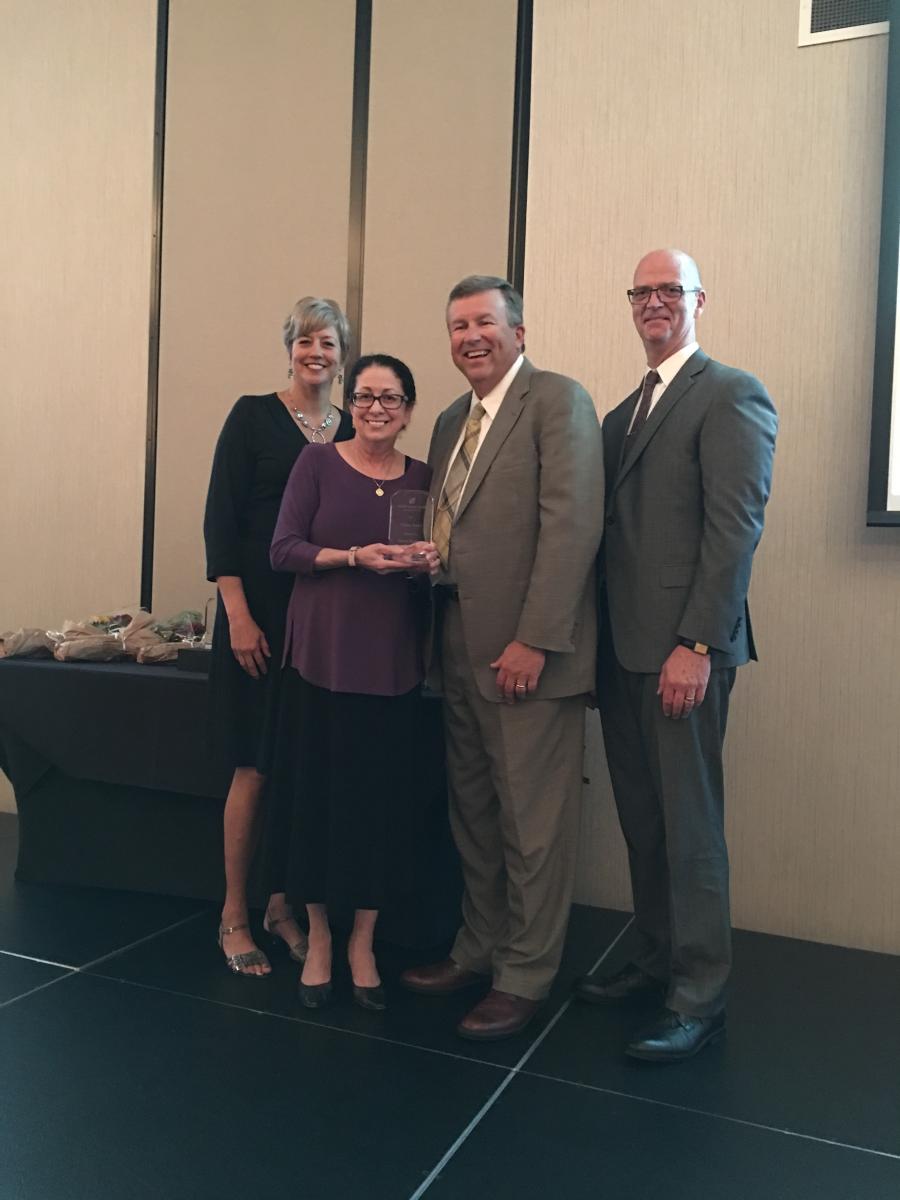 Prevent Blindness Northeast Ohio Chapter representatives Bill Beard and Darcy Downie accept the North Coast Community Partner Award from North Coast representatives John Griffith and Gina Gavlak for providing access to comprehensive eye care including donated eye exams and eyeglasses to their patients.