Children's Vision Screening
Prevent Blindness Wisconsin works in cooperation with public health nurses, school nurses, healthcare staff, students, volunteers, childcare providers, Wisconsin Lion/Lioness, and Head Start personnel to provide free vision screenings across the state. We provide vision screener training and certification, consultation, vision screening materials, and educational resources to our screening partners. Prevent Blindness Wisconsin develops and maintains enhanced children's vision screening follow-up resources to ensure children with vision problems are able to get the vision care they need and deserve.
In the 2018-2019 year, screening partners reported a total of 263,771 children screened and of those screened, 29,275 children were referred for professional eye examinations. Partners representing all 72 Wisconsin counties reported screening, proving statewide impact through the children's programs.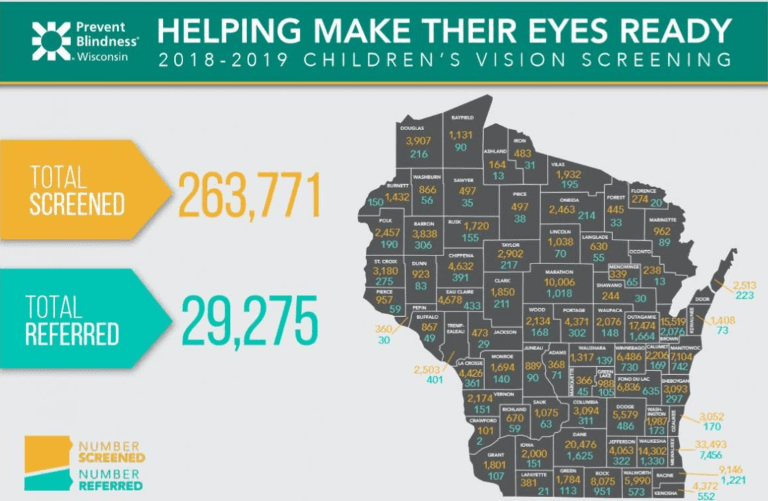 1 in 20 preschoolers and 1 in 4 school-aged children has a vision problem, and it is not always easy to detect. Sometimes children have trouble seeing and don't even realize they are seeing the world differently than others. Healthy vision is important for learning and success in school. For most children, 80% of learning happens visually. Vision problems can make it hard for children to read and learn, and unfortunately, many fall behind in school or show behavioral problems.
If you are interested in learning more about our Children's Vision Screening program, please contact Shelby LaTona, Senior Community Health Manager, at [email protected] or (414)-765-0505.