Prevent Blindness Wisconsin is pleased to announce our 2022-2023 Annual Meeting award recipients in support of healthy vision for all Wisconsinites.  
Adult Healthy Vision Award 
Ventanilla de Salud  
Consulado de México en Milwaukee  
Dante Gómez Martinez  
A journalist, editor and promoter of the social integration and development of Mexican migrants in the United States, Mr. Gómez has been Consul of Community Affairs at the Mexican Consulate in Milwaukee since September of 2018.
During his tenure, he has promoted the strengthening of public policies aimed at the most vulnerable Mexican and Latino migrant families, and the organization of communities as a vehicle to facilitate their social integration and participation in addressing their problems and needs. A fundamental part of his vision has been to contribute to the construction of stronger and better-organized communities and to the establishment of a solid dialogue between the Mexican Government and the Mexican diaspora. 
He has also promoted the strengthening of the Health Counter, as well as the creation of the Educational Guidance and the Financial Advisory Counters. 
Dante Gómez has received numerous awards and has been a source of information, analysis and consultation for many academic and journalistic investigations. From 1991 to present, Mr. Gómez has co-founded, led, and collaborated with various print media outlets both in Mexico and the US.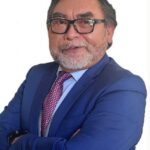 David Ramírez Rivas
Originally from Chihuahua, Mexico, David received his law degree from Monterrey Tech in May of 2005.
After several years practicing law in various areas that included working in firm specializing in civil and family law, he discovered his passion for serving others through his work at the Consulate of Mexico in Tucson, Arizona. Since it opened in June of 2016, David has worked at the Consulate of Mexico in Milwaukee, and, due to his formation as a Mexican lawyer, he was ultimately assigned to the Department of Community Affairs under the command of Consul Dante Gomez Martinez. There, he has been able to serve the community directly. 
 With the support of different organizations such as Prevent Blindness Wisconsin, he has been able to advocate for the needs of the Latino community. His wish is to continue serving the community for as long as he can!