Preschool Ambassador
Each year, Prevent Blindness Wisconsin chooses a Preschool Vision Screening Ambassador. This Ambassador is a child who was caught at a Prevent Blindness Wisconsin volunteer vision screening. He or she exemplifies the many children whose vision is helped through our valuable community service. The Ambassador symbolizes the importance of early detection of children's vision problems and serves as a representative for children's vision screening at numerous Prevent Blindness Wisconsin events throughout the year.
2021 Preschool Ambassador-Charles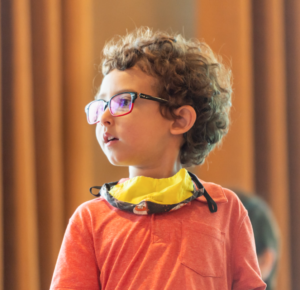 Past Ambassadors
Children's Vision Screening Success Stories
"My daughter had a vision screening twice and failed both times. I wasn't very concerned because she appeared to be able to see well and I thought she was just too young. Then I began to notice that she turned her head to one side when she watched television. I took her in for an exam and sure enough we were told she needed glasses. She is now willingly and consistently wearing them everyday!"  ~Lydia Bell
"We noticed our son sitting too close to the TV and having a hard time in school. So we took him in to get glasses and he said "look mommy it's not fuzy anymore!"  Our daughter Kaylee has also gotten glasses and is reading books and doing much better in school!" ~Shannon Taylor-Roberts
"I am glad that Prevent Blindness Wisconsin came into daycare and checked Myles. I had my own concerns but when he didn't do well on testing it made me go and take him to the doctor right away." ~Patricia Engel
"Until our daughter was screened by Prevent Blindness Wisconsin at her school, we were unaware of any issues she had with her eyes. We were notified that she did not pass her exam and that we should follow up with our family doctor. We took her in and we were told she has Amblyopia. We have been referred to a pediatric ophthalmologist for further testing and to determine the best treatment for her condition. We hope that with early detection and proper treatment we will be able to correct her Amblyopia at an early age. With so many kids now using tablets and cell phones at such an early age, I feel it is more important than ever to get kids eyes checked sooner." ~Jessica Woodman
Healthy Eyes Success Stories
"This program helped me get new glasses when I really needed them. It was very hard for me to get a pair of glasses for a fair price with no insurance. Also got a stronger prescription this program is very helpful."  ~Brian Townsend, Jr.
"I just would like to thank you guys so much, I don't have health insurance so it was hard for me to get the help I need. Thanks to your organization I am able to see better."  ~Kendra Lee
"With humble appreciation, I am writing you to say thank you for awarding me the OneSight voucher to pay for my eye glasses. Today, I am overjoyed with gladness because of my improved vision.
My journey through the Electrical Engineering Technology course at Northeast Wisconsin Technical College has been very challenging because of my impaired vision. I had difficulty taking notes in class, reading my text books, and following along with my teachers' PowerPoints because of my deficient sight. More so, my daily internal conflict to manage my meager vision accompanied headaches, fatigue, and depression for my dream to overcome poverty had been overshadowed by my poor sight.
The OneSight voucher has created opportunity for me to improve my vision by use of wearing my new glasses. Thanks to your voucher, I am able to walk to my destiny of achieving my educational goals." ~Keston Roberts
Adult Vision Screening Success Stories
"I was legally blind – well over  20/200. I wore contact lenses constantly and for long hours because I couldn't be without them. I commute to work 54 miles (one way) so often my contacts became a problem while driving. Because of the vision screening, I was diagnosed with cataracts. I received lens implants and now I see 20/25 without contacts. Thanks to Prevent Blindness Wisconsin, my vision was restored!"  ~Richard Lowe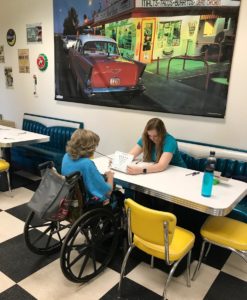 "I'm a poor college student with an extremely part time job, who would have been going on her 3rd year without a new pair of glasses because I couldn't afford them. A doctor at my campus told me about the Mobile Eyes program because I'd been having horrible migraines and they thought new glasses would help. I've had my new glasses for about a month and am feeling great. Thank you, Mobile Eyes!"  ~Sara Cornell
"Thank you so much for coming to Lake Oaks to vision screen our residents! They keep telling me how much they enjoyed having you here! We would love to have you come again!" – Lake Oaks Service Coordinator
Your Story
If you have a success story you would like to share with us please fill out the form below and send it to us at [email protected].