Preschool Ambassador
Each year, Prevent Blindness Wisconsin chooses a Preschool Vision Screening Ambassador. This Ambassador is a child who was caught at a Prevent Blindness Wisconsin volunteer vision screening. He or she exemplifies the many children whose vision is helped through our valuable community service. The Ambassador symbolizes the importance of early detection of children's vision problems and serves as a representative for children's vision screening at numerous Prevent Blindness Wisconsin events throughout the year.
2021 Preschool Ambassador-Charles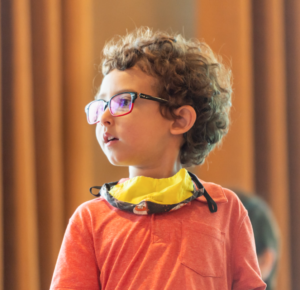 Past Ambassadors
Children's Vision Screening Success Stories
"My daughter had a vision screening twice and failed both times. I wasn't very concerned because she appeared to be able to see well and I thought she was just too young. Then I began to notice that she turned her head to one side when she watched television. I took her in for an exam and sure enough we were told she needed glasses. She is now willingly and consistently wearing them everyday!"  ~Lydia Bell
"We noticed our son sitting too close to the TV and having a hard time in school. So we took him in to get glasses and he said "look mommy it's not fuzy anymore!"  Our daughter Kaylee has also gotten glasses and is reading books and doing much better in school!" ~Shannon Taylor-Roberts
"I am glad that Prevent Blindness Wisconsin came into daycare and checked Myles. I had my own concerns but when he didn't do well on testing it made me go and take him to the doctor right away." ~Patricia Engel
"Until our daughter was screened by Prevent Blindness Wisconsin at her school, we were unaware of any issues she had with her eyes. We were notified that she did not pass her exam and that we should follow up with our family doctor. We took her in and we were told she has Amblyopia. We have been referred to a pediatric ophthalmologist for further testing and to determine the best treatment for her condition. We hope that with early detection and proper treatment we will be able to correct her Amblyopia at an early age. With so many kids now using tablets and cell phones at such an early age, I feel it is more important than ever to get kids eyes checked sooner." ~Jessica Woodman
Your Story
If you have a success story you would like to share with us please fill out the form below and send it to us at [email protected].