Children's Vision
It is not always easy to detect if a child has a vision problem, in fact 1 in 20 preschoolers and 1 in 4 school-aged children has a vision problem. Sometimes children have trouble seeing and don't even realize they are seeing the world differently than others. Healthy vision is important for learning and success in school. For most children, 80% of learning happens visually. Vision problems can make it hard for children to read and learn, and unfortunately, many fall behind in school or show behavioral problems.
Children's Vision Health Virtual Q&A
Join Prevent Blindness Wisconsin staff as they share how vision can impact your child's learning and development.
These free sessions are open to parents of children any age.
Sign up by clicking the link below: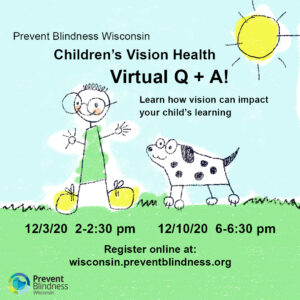 A Parents' Guide to Vision Screening and Follow Up Care
This resource guide is designed to help parents understand the importance of their child's vision health. This guide explains common vision problems found in children, what a children's vision screening is and why it is effective, and signs parents should look for in their child's eyes to see if there is healthy development, or if a problem is present.
Additional Resources for Parents