Caroline lives in Elm Grove with her brother Jack, sister Ella and her parents Ellen and Dan. She was just 4 years old when Prevent Blindness Wisconsin volunteer vision screeners provided Caroline with a free vision screening at her preschool, Mother's Day Out. She was later diagnosed with amblyopia, a vision disorder that can lead to permanent vision loss in the affected eye, along with developmental delay, if the problem is not caught early and corrected.
Caroline's Prevent Blindness Wisconsin screening was the second screening she had received. At Caroline's 4 year old well-baby check-up, the nurse did a basic eye screening using a chart that had shapes on it. When Caroline did not pass the screening with her right eye, the nurse thought perhaps Caroline didn't know her shapes.  Say's Caroline's mom, Ellen, "I knew this couldn't be the case as Caroline knows ALL of her shapes. Yet even when the nurse said that if I was concerned I should follow up with a more extensive eye exam, as a mom of three kids I did what we all do – let it go!  After all, no one in our family wears glasses or has any eye issues, why would our youngest be any different?"
Several weeks later, Caroline came home from her preschool at Mother's Day Out with a slip noting she had not passed her eye screening and to follow up with an eye doctor. That second screening was key. Caroline's mom immediately made an appointment at the Children's Eye Center with Dr. Maria Patterson.  After an extensive eye exam with Dr. Patterson, Caroline was diagnosed with accommodative esotropia and amblyopia. "Although grateful for the early diagnosis," said mom Ellen, "my heart sank. Why hadn't we caught this?"
In addition to wearing glasses all the time now, Caroline wears a patch to cover her good eye for two hours each day in order to strengthen her vision in her lazy eye.  Mom Ellen says that Caroline gets a lot of attention for her cute purple glasses and sometimes questions about her eye patch, but Caroline typically "stares them down," says Ellen, and explains the entire situation of her wandering eye. Strangers are usually very surprised at her articulate response!
Both parents are thankful that Caroline's vision problem was caught by Prevent Blindness Wisconsin: "We are proud to have Caroline partner with such an important organization. Prevent Blindness Wisconsin is making a lasting impact on young children, and Caroline is a prime example!"  As for Caroline, she enjoys anything having to do with the movie Frozen, riding her bike, and playing with her sister on the swing set. Thanks to her Prevent Blindness Wisconsin vision screening, Caroline is well on her way to having healthy vision that will support her success in school.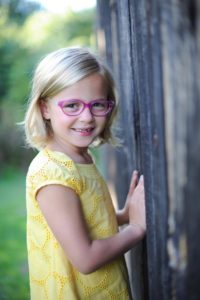 Caroline 2017