Meet Kaylie, Prevent Blindness Wisconsin's 2016 Preschool Ambassador
Prevent Blindness Wisconsin is excited to introduce our 2016 Preschool Ambassador, Kaylie. Four-year-old Kaylie is an active little girl who loves scoring goals in her soccer games, playing with dolls and running around outside. Last fall, Prevent Blindness Wisconsin volunteers provided a free vision screening at Kaylie's preschool in Grafton where it was discovered that the vision in Kaylie's left eye was extremely poor. Volunteers recommended that Kaylie see an eye care provider to help correct the problem.
After visiting the pediatric ophthalmologist, Kaylie and her parents learned that Kaylie has amblyopia. Her brain was not receiving the visual signal from her left eye, even though her right eye has 20/20 vision. While Kaylie's father also has amblyopia, Kaylie's mom, Jessica, never suspected that Kaylie may have difficulty with her vision.
"We were extremely surprised to realize how poor her vision was in the left eye, as she had no lazy eye symptoms, nor had she ever complained of her inability to truly see from her left eye. As Kaylie sat on my lap at the eye doctor, I was shocked to see the extent of her lack of vision," said Jessica.
In order to address Kaylie's amblyopia, her ophthalmologist recommended that she begin patching her strong right eye for four hours per day. Patching her strong eye will force her affected eye to work properly and may even correct her amblyopia in the long run. Patching has been a bit of a struggle for Kaylie, "She will put the patch on her eye and then I will walk past her 5 minutes later in her room and see that she has shifted the patch over to the side. Little stinker!" said Jessica. Kaylie is much more excited to wear her prescription glasses since they are pink and purple, her two favorite colors!  Thanks to Prevent Blindness Wisconsin's early detection of her vision problem and prompt treatment, Jessica said Kaylie can "read, play soccer and just enjoy being a little girl."
Without early detection from Prevent Blindness Wisconsin volunteers, Kaylie's vision problem would have gone undetected, untreated, and may have resulted in permanent vision loss in her left eye. Kaylie's parents are thankful for the work done by Prevent Blindness Wisconsin, "We are extremely grateful to the volunteers that administered Kaylie's vision screening and cannot express our appreciation for Prevent Blindness Wisconsin's services enough."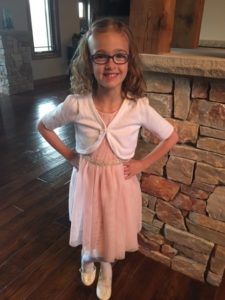 Kaylie 2017